Play Club Softball, Play Paladin!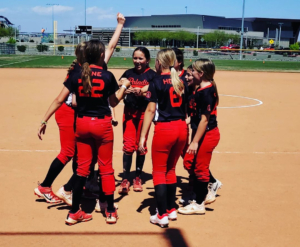 Paladin Softball Club is a competitive, team oriented program designed to develop and enhance the individual and team skills needed to compete at a higher level.
Club softball teams compete in local softball tournaments and register in established local softball leagues in the Southeast Valley including Chandler, Gilbert, Queen Creek, Mesa, Florence and San Tan Valley.
While club softball competition breeds intensity, we believe as a Christian-based organization that club sports should be played the right way. Our club softball teams display integrity, sportsmanship, respect, kindness and ultimately a Christ-like attitude on and off the field. Prayer is cornerstone of each of our club softball teams as well as an outreach to the teams we compete against.
Placement onto a club softball team is determined through an assessment, tryout or player draft.
Director of Club Softball: Emily Ruiz
Program Details
Christian Based Program
League Play:  QC Heat Little League
Tournament Play: Various local tournaments
Practices: Various locations in San Tan Valley, Queen Creek and Florence.
Current Age Groups:  Birth Year 2007 – 2012
Cost:  Based on Individual Team
If you are interested in your child joining Paladin Softball Club or if you have any other questions about our program please email our our Director of Club Softball at emily@paladinsports.org.
Club Softball Coaches
We are currently looking for coaches to join our growing program and expand our club softball age group offerings!  If you would like more information please email our Director of Club Softball at emily@paladinsports.org.
Meet the Club Softball Director
Emily Ruiz
Interim Director
Emily and her husband Frank have lived in San Tan Valley since 2007. They are raising their two daughters Davyn and Ashlyn. They have been Foster parents since 2012 and continue to foster young girls in the Arizona Foster Care System.
Emily was raised in Arizona and played sports from age 4 all the way through High School. Emily played a sport all three seasons during High School with Softball being her top sport. Emily started a Fellowship Of Christian Athletes huddle at her High School and was involved at many of the FCA camps. Emily was a hair stylist and owned her own business for 15 years.
Emily's love for sports and youth led her to Paladin Sports Outreach where she is able to serve her community.
Contact Emily at emily@paladinsports.org.
Stay Updated
Sign up for our monthly Club Sports newsletter.