Play Club Basketball, Play Paladin!
Paladin Basketball Club is a competitive, team oriented program designed to develop and enhance the individual and team skills needed to compete at a higher level.
Club basketball teams compete in local basketball tournaments and register in established local basketball leagues in the Southeast Valley including Chandler, Gilbert, Queen Creek, Mesa, Florence and San Tan Valley.
While club basketball competition breeds intensity, we believe as a Christian-based organization that club sports should be played the right way. Our club basketball teams display integrity, sportsmanship, respect, kindness and ultimately a Christ-like attitude on and off the court. Prayer is cornerstone of each of our club basketball teams as well as an outreach to the teams we compete against.
Placement onto a club basketball team is determined through an assessment, tryout or player draft.
Director of Club Basketball: Elijah Todd
Program Details
Christian Based Program
League Play:  RISE Athletics, Legacy Sports Park, East Valley Youth Sports
Tournament Play: Various local tournaments in Queen Creek, Gilbert and Phoenix
Practices: Various locations in San Tan Valley, Queen Creek and Florence
Current Age Groups:

Boys – 3rd – 10th Grade
Girls – TBD

Season: August-March (3rd-8th grade); August-October, March-May (High School)
Cost: Based on Individual Team
If you are interested in your child joining Paladin Basketball Club or if you have any other questions about our program please email our our Director of Club Basketball at elijah@paladinsports.org.
Club Basketball Coaches
We are currently looking for coaches to join our growing program and expand our club basketball team offerings to include more ages for boys and girls!  If you would like more information please email our Director of Club Basketball at elijah@paladinsports.org.
Meet the Club Basketball Director
Elijah Todd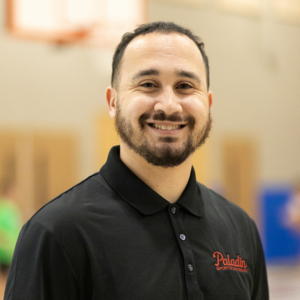 Coach Elijah played locally in Arizona at Gilbert High and Leading Edge Academy. He returned to Arizona in 2019 after finishing up his collegiate basketball career at Life Pacific University. He was part of the first recruiting class to kick off the reinstatement of LPU athletics (2015) and assisted the team in reaching Top 10 National Rankings back to back years (2016-2018).
Coach Elijah comes to Paladin after prior stops at San Tan Charter and LFPA both of which are in Gilbert, AZ. He has found his niche in helping develop programs and is excited to help take Paladin to the next level. He currently lives in San Tan Valley with his wife Melanie and two dogs Gizmo and Bulli.
Contact Elijah at elijah@paladinsports.org
Stay Updated
Sign up for our monthly Club Sports newsletter.
Coach Cecily
Coach Cecily is an Arizona native and played locally for Mesquite High School. She was the Player of the Year her Senior year and went on to play Division 1 Basketball at Long Beach State University.
Coach Cecily played a vital role in LBSU's March Madness appearance in 2017, making history and ending a 25 year absence. She will be vital in helping Paladin build out the Girls Club Basketball program in the near future.
Coach Cecily currently lives in Florence, AZ with her family and two dogs Sasha and Kali
Coach Blake
Coach Blake comes to Paladin after a successful professional basketball career in Cordoba, Spain for CP Penarroya. Prior to playing professionally, Coach Blake played at Modesto Junior College and Life Pacific University. At LPU, he was key in helping lead the team to the NCCAA National Tournament where they would finish #7 in the country.
The following year, while on the LPU coaching staff, he was able to help assist the team finish #6 in the nation. Coach Blake comes to Paladin with a ton of knowledge and experience and will make a huge impact on the program.
Coach Blake lives in San Tan Valley with his family and Rex, his beagle.
Coach Jared
Coach Jared has been coaching with Paladin since the beginning running basketball camps, clinics and coaching various rec teams. His coaching experience with youth and high school sports dates back since 2003.
His emphasis in player development is on fundamentals, tough nosed defense and playing unselfishly. His love for the game was passed down to him from his father and it's his biggest joy to pass that same love for the game on to all the players he interacts with.
Coach Brandon
Coach Brandon was born and raised in Wisconsin where he played basketball, baseball, and football. Him and his wife, Lara, moved to Arizona in 2007 where they settled down and started their family. House, dog, and 3 kids later they have been a part of the Paladin family since 2014.
Coach Brandon has 15 years of coaching experience at the Recreational, Club, and High School levels and played collegiately at Western Tech and Mesa Community College.
2023-24 Club Basketball Calendar
Paladin Sports Basketball Opportunities