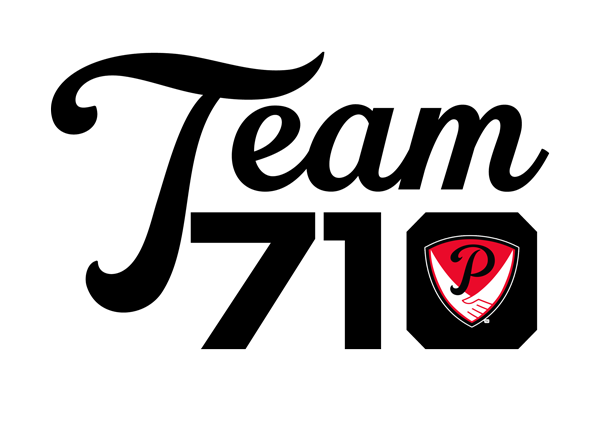 The role of Team 710 is to be a resource to Paladin Sports Outreach and help us fulfill our mission and vision of sharing the message of Jesus Christ by representing this organization through volunteer time, advice, feedback, input and ultimately helping us in areas of expertise that you may have.
The term "Team 710" was coined from our organization verse which is Psalm 7:10:  My shield is God Most High, and he saves the upright in heart.
We value your time and understand life is very busy.  We know that volunteering is important to you, but you also don't want it to feel like a chore or a just another task you have to do. Instead, you will be added to our Team 710 database and when we need help with upcoming programs, events and activities we will reach out and if you can help then help! If you can't, that's ok too! When we are trying to grow, implement new programs, or just need your advice and resources then we will reach out, and if you can help we would love to have you.
We have a very simple qualification for all Team 710 members. You must be a committed follower of Jesus Christ and willing to sign our statement of faith, as all our board members do.
As a member of Team 710 you would work closely with our board of directors, executive director and our programs coordinators.
Have questions about Paladin Sports Outreach? Learn more about us.
Ready to volunteer? Send an email to our Faith & Outreach Coordinator, Lindsay Schwarz.
Why should I join Team 710?
We're glad you asked! You would make an amazing Team 710 member because you have a love for our community and belief in our our organization and you want to help out in a bigger and more impactful way. You have the unique characteristics and abilities that we look for in Team 710 members and we want that to be reflected in the ways that you volunteer for Paladin Sports Outreach.
Should I invite others to join Team 710?
You are asking all the right questions! Absolutely, you should invite people like yourself to join our team. If you know someone who would be a great fit for Team 710 please recommend them to us! We are always looking for amazing volunteers, with a heart for children and families, to join our team. Just tell them to visit PaladinSports.org/Team710
The first and foremost responsibility of a Team 710 volunteer is to love the kids and their family and friends. We do this by serving them and meeting basic needs, such as welcoming them upon arrival, meeting needs before they arise, actively praying for them, and being a friendly face as they are leaving the field!
A new commandment I give to you, that you love one another: just as I have loved you, you also are to love one
another.  John 13:34
Saturdays will typically span from 8:30 a.m. – 1:00 p.m., with opportunities to work all morning or in 2-hour shifts.
Whatever you do, work heartily, as for the Lord and not for men, knowing that from the Lord you will receive the inheritance as your reward. You are serving the Lord Christ. Colossians 3:23-24
The Faith & Outreach tent will also be a place for kids to come recite their memory verse and share the character trait of the week to get a prize from our treasure chest.
Behold, children are a heritage from the LORD, the fruit of the womb a reward. Like arrows in the hand of a warrior are the children of one's youth. Psalm 127:3-4
We will have a few volunteers at both gates to welcome and lead families as they arrive and to give them a thankful farewell as they leave.
Contribute to the needs of the saints and seek to show hospitality. Romans 12:13
More than anything, we want the families to come to know the Team 710 men & women in blue. We are there to offer genuine support and assistance wherever needed to help make the morning run smoothly and to give everyone the best experience possible!
And God is able to make all grace abound toward you, that you, always having all sufficiency in all things, may have an abundance for every good work. 2 Corinthians 9:8
All activities and positions for the morning will be overseen by Paladin's Faith & Outreach coordinator Lindsay Schwarz.
You are the salt of the earth and the light of the world… Let your light so shine before men, that they may see your good works and glorify your Father in heaven. Matthew 5:13-14, 16